Kyle's Secret Desires by PeterAinLA
The nipples on the handsome dude's well-defined muscular pecs stood erect as he ran his hands over his own smooth hairless chest. As he stood behind the sliding glass door leading to the balcony off of his bedroom, he looked down upon the big swimming pool in the back yard of the family home. Below him, he watched his younger brother and the kid's best friend horsing around in the water. Their firm teenaged round bubble-butts looked so hot covered only by their tight nylon speedos. The horny jock-stud rubbed his growing rod inside his own damp speedo as his mind wandered.
Kyle had always felt very protective of his younger brother. Even though he was only a year older than Rick, they had a totally different circle of friends. Kyle was a bit of a jock and played almost every sport in high school. He had inherited his father's large-framed build and muscular definition. At 6 feet tall and 185 pounds, with blond hair and blue eyes, Kyle's handsome face and body were the spitting-image of his father. Rick on the other hand had the soft features and smooth trim body-type of their mother's side of the family. He stood 5 feet 11 inches tall and weighed about 155 pounds. His blond hair was more sandy-colored than Kyle's, and his hazel eyes and cute face had a boyish look to them. But both of their bodies were virtually hairless, and they shared another family trait - a long thick uncut 8 inch dick with low-hanging balls.
Rick liked some types of athletics, but these tended to be sports like swimming and tennis. His tight lithe body was better suited to these than the football and baseball that Kyle got into with his more muscular build. So as alluded to earlier, Rick's friends were the preppy-type and Kyle's were the macho muscle-type. But Kyle still felt close to his brother and loved him very much. He always kept an eye on him and made sure that nobody gave him any shit. He knew Rick took some grief from people at school due to the fact that he was his brother. They expected the younger kid to be just like his jock brother had been at a given age.
Kyle had just turned 19 and was in his first year of college. His parents were well-off and could afford to send him to any school, but Kyle's grades in high school had not been very good, so he settled for a small local community college. The dude wasn't dumb, he just had problems that troubled his mind, secret desires that would not go away. One had been nagging at his subconcious since his middle teens - he found himself becoming more and more sexually attracted to other males. He finally surrendered to the fact that he was gay. Beyond that, he had developed a strong fetish for male underwear and swimwear.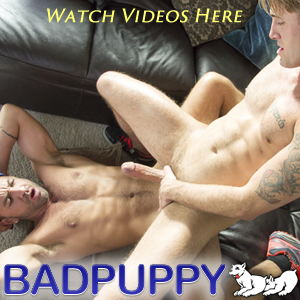 As Kyle's urges became stronger, he had resorted to stealing other jock's underwear from their lockers at school. He had nearly been caught several times by one of his teammates as he stuffed a jockstrap or a pair of mesh briefs into his gym bag. The horny queer would rush home and jam the stolen prize into his mouth as he rubbed his leaking hard rod until it filled his own cotton briefs with a wet load. The horny jock-fag soon had a whole drawer full of various dude's male gear. The other obvious target of his perverted lust was his own brother. Kyle would swipe Rick's damp cotton mesh briefs from the laundry hamper and lock himself in his room. He would hold them up to his face and think about his cute brother's smooth rippled naked body until his pulsing cock would soak his low-rise briefs.
The blond hunk groaned as his mind was drawn back to the two young dudes in the pool below him. Kyle had been down there in the pool with them earlier and made the mistake of laying out in the sun on a lounger next to the pool. He forgot how his horny prick had a mind of its own when he lay under the hot sun. It never failed to start growing inside his tight speedo until it would push its way out above the waistband. Seeing the large bulges in the front of the other dude's suits also didn't help the situation. So now the embarrassed queer stud had retreated to his bedroom. As he continued to watch, Rick and his best bud Tod finally pulled themselves out of the water and layed out in the sun themselves.
Rick's buddy Tod was also 18 and a member of the high school swim team with him. Kyle admired the young stud's toned swimmer's body with the dark-brown crab-trail of crotch hair that led from his navel down into his damp white speedo. He could just make-out the dark outline of the boy's pubic bush surrounding his ample teenaged dick. Kyle's eyes were drawn suddenly to his brother's bright yellow speedo. Laying right next to his buddy, Rick's plump rod was starting to swell inside his tight suit. Soon Kyle could see the tip of the cute dude's dick right at the edge of the light nylon. The boy's hard- on was clearly visible through the clinging thin material of the speedo. Switching his gaze back to Tod's crotch, he saw that the other kid's bulge had grown also. Kyle was so turned-on now, he grabbed the pair of cotton mesh briefs he had taken-off earlier to go swimming, and jammed them into his mouth. He brutally pinched his erect male tits and rubbed his speedo covered stud-prick hard. His eyes glazed-over as he shot his sperm load into his suit. When he looked back outside, the two boys were gone.
Kyle got so horny that night that he finally ventured down to a gay bar in town. As he looked over the hunky guys cruising him, his jaw dropped when he saw one of his best friends from high school looking at him from across the room. Scott walked right up to him groping his own crotch as he said to Kyle,"I hoped I would run into you sooner or later...I've wanted a piece of your gorgeous butch ass since the first time I met you...I thought that I saw you steal one of the guy's jockstraps one day from the locker room...I shot my load twice that night wondering if you took them because you were queer."
Kyle's big dick began to swell inside his tight ripped 501's and pre-cum dampened his low-rise 2Xist mesh briefs as he rubbed his own crotch listening to his buddy talk. Reaching his hand out, Kyle started roughly rubbing Scott's jeans bulge. He looked into the handsome jock's eyes and said,"I wanted to get into your pants also stud...I always got turned-on looking at your round bubble-butt covered with a tight white pair of cotton briefs...I wanted you to take them and jam them down my muscle-slut throat after you shot a load into them...I'm a total underwear pig."
Scott pushed his body closer to Kyle's and began rubbing the blond fag's damp crotch as the horny dude continued to rub his. "Oh man, you fucking underwear slut-boy...keep rubbing my queer dick bulge, stud...make me shoot my spunk into my briefs right here...I'm so fucking hot for your muscle-pup body."
The two aroused jocks ground their bodies against each other, ignoring the noisy crowd around them. Kyle kissed Scott roughly and they both groaned into the other's mouth as each of their erect rods deposited a stream of gism inside their cotton mesh pouches. They humped their damp crotches against each other as their breathing slowly returned to normal. Kyle invited Scott to come back to his place, and they left the bar with huge wet spots clearly visible on the front of their denim jeans.
Kyle brought Scott in the back entrance to the house and up to his room in hopes that Rick wouldn't notice. As Kyle locked the bedroom door, Scott tackled him and pinned his muscled body to the floor. He yanked the front of Kyle's white mesh T-shirt up over the blond stud's head leaving it stretched around his biceps. Quickly opening the buttons on his own wet 501's, Scott held the horny dude's arms down and ground the soggy front of his briefs against the panting queer's face.
"Suck on my cum-drenched jockeys, you fucking slut...I always knew Mr. Macho Stud was a closet pussy-boy queer...you wanted your horny mouth filled with my cummy underwear...now suck my stiff rod through that cotton mesh...make me unload again, bitch.", panted the out-of-control butch teen jock.
Kyle was totally aroused by his friend's dirty talk and rough treatment of his hard muscle-jock body. He felt the humping stud's cock pulse inside his sucking mouth as a flow of spunk shot down his throat right through the mesh. As Kyle gasped for air, Scott reached back and ripped open the queer jock's jeans and began to jack the whimpering dude's rock-hard dick inside his wet 2Xist low-rise briefs. His fag-cock stiffened and more white gism shot into the damp cotton.
The two underwear freaks exchanged their cum-soaked briefs and Scott left promising to get together again. Kyle was tired, but decided that he needed to take a shower. On his way to the bathroom naked, he thought he heard a groan coming from Rick's bedroom as he passed it. Cracking the door slightly, Kyle peeked into his kid brother's room. His mind reeled at what he saw. There was his cute handsome brother laying on his back with a pair of white briefs jammed into his mouth. His legs were up on the muscled shoulders of his best friend Tod, and the buddy had his teenaged fuck-rod inserted into the groaning kid's tight bubble-butt. Kyle grabbed his own dripping tool as he listened to Tod say,"Take my big cock up your tight ass, faggot...I knew I could make you beg for it...you always tried to sneak a look at my tight bod in the gym...now I catch you sniffing my damp swimwear...is that why you invited me over for a swim, queer boy?"
Tod continued to pound Rick's teenaged hole, and soon the pretty-boy slut whimpered as his 8-inch dick reacted to the brutal fucking by shooting long white bolts of sperm onto his own chest and gagged face. Seeing this, Tod pulled his dripping dong from Rick's boy-butt and scrambled-up to straddle the boyish fag's blond head. He grabbed the kid by the hair and dick-slapped his best buddie's face. Soon the dominant stud moaned and drowned the cute queer in a stream of ball-juice.
As Tod gathered-up his clothes and began getting dressed, he told Rick,"Keep the briefs, freak...you'd probably just steal them again anyway...all the guys on the swim team will be interested to know where their extra speedos have been going...you sick pervert, I bet you even swipe your stud brother Kyle's dirty jockeys and jack-off into them...I can't believe you admitted that you want him to fuck you...I'm a better fuck than him anyway, I bet."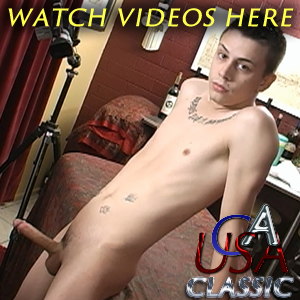 Kyle retreated to his own bedroom and waited until he heard Tod leave the house. As he stood there, he suddenly began to remember that he had missed a couple pair of his favorite cum-stained briefs. Could it be that Rick took them? Was his baby brother an underwear freak like Tod said? Kyle was aroused beyond reason as he grabbed his most comfortable old pair of CK briefs with tattered rips in the mesh near the waistband and pulled them over his engorged cock. The low-rise briefs barely covered the top of his prick as he headed toward Rick's bedroom.
Kyle slowly opened the door and entered his sweet brother's room. The spent kid had just layed there on his bed still covered in cum and started to doze- off with Tod's briefs still in his mouth. Up close, Kyle could see the remains of Rick's own mesh briefs around his taut abdomen where Tod had ripped them apart to expose the boy's dick and asshole. Kyle leaned over his beautiful baby brother's smooth body and began to lick the globs of cum from his golden skin. Rick stirred and sat up with a whimper as he realized his big brother was there. He pulled Tod's underwear from his mouth and started to cry.
"Oh God, Kyle...I'm so sorry...I know you must be disappointed in your stupid kid brother...you've always been my butch hero, dude...now you find out I'm a fucking queer homo...please don't turn me away...I couldn't stand it if...", whined the scared 18-year-old teen as his voice trailed off.
"Shush baby stud...I'd never let us be torn apart...and I've never been disappointed with anything you've done...but I am sad we've both had to deceive each other for so long...you see your macho big brother is a queer underwear freak too...I have been for quite awhile...I've stolen many pairs of your tight damp briefs and used them to jack-off with...I never thought you might be doing the same thing...I'll do anything to make it up to you...now tell me what happened between you and Tod.", said Kyle as his pulse raced holding his brother's tight muscular body in his arms.
"I got a roaring hard-on this afternoon down beside the pool, but Tod pretended not to notice even though I could see his own dick was stiff inside his speedo. God Kyle, I don't know what came over me, but I just kept staring at my best bud's bulging hairy crotch and got harder and harder. He suddenly said he wanted to go get something to eat, so we went inside to take showers. While he was in the shower, I couldn't help myself and sucked on his damp speedo until I came into my own suit. I didn't realize at the time that he saw me doing it. We both just got dressed and went out for some burgers. We came back to the house later in the evening as Tod said he wanted to shoot some pool on our table downstairs. After a few games, I was leaning over the table taking a shot when Tod grabbed my butt and started feeling me up.", said Rick as he noticed Kyle's big dick getting harder stretching his worn briefs.
Rick continued his story and told how Tod then spun him around and punched him hard in the stomach, dropping the boy to his knees. He grabbed the stunned teen's head by the hair and forced his face into the crotch of his tight ripped 501's. "Get my big dick hard, you fucking queer...I know you want to take it down your slut-boy throat...beg for it, you horny cocksucker." Rick's 8-inch rod was dribbling pre-cum onto his taut rippled abs as he recounted his lurid ordeal to his brother.
The humiliated stud admitted how he begged his dominant buddy to let him taste his sweet ball-juice and wanted his boyish face fucked by his best friend. Rick told how Tod then twisted his arms behind his back and dragged him upstairs to his bedroom. How Tod ripped his tight white mesh T-shirt from his chest and used the shreds of cloth to bind his wrists behind his back. How his horny bud then forcibly stripped his tight worn jeans down his legs leaving only his white cotton-mesh Champion briefs on. How Tod then stripped himself down to his low-rise mesh briefs and pulled them below his dripping engorged cock and huge balls. How the stud slapped his panting face and plunged his hard-on into Rick's moist mouth and brutally pounded his slut-boy throat until bolts of sticky cum shot past his lips.
Rick felt his brother Kyle's hand wrap around his pulsing dick as he continued to tell how Tod then pulled his heaving body up onto his own bed and dropped him onto his back. How his bud ripped open the front of his Champion briefs exposing his sweaty blond-haired pubic patch and pulsing fag-prick. How Tod removed his own damp cotton briefs and stuck them into Rick's gasping mouth. And how Tod tore open the cloth mesh covering his tight fuck-hole and plunged his big teen-tool deep into the moaning dude's round butt.
A confused and out-of-control Rick shook his head and broke-off his lurid story as he looked his gorgeous brother's muscled body over with new-found lust. His brain raced thinking about the news that his hot butch big bro' was also a queer. Passion overtook all reason as he pushed his blond brother onto his back on the bed. He yanked the torn shreds of cloth and elastic waistband that had been his briefs from his hips and jammed it all into his stunned brother's mouth. He looked down at his brother's worn low-rise CK briefs and noticed the swollen head of his pulsing cock sticking out above the ripped waistband. Rick tore open the thin mesh covering the front of Kyle's crotch and ripped apart the seat of the briefs to expose his brother's pink fuck- hole. His panting brother's big man-tool was dribbling pre-cum onto his smooth rippled jock-abs as only the waistband held it in place.
Rick grabbed some lube from the bedside and spread it over his stiff teen cock. He looked into his big brother's blue eyes and said,"I've been dreaming about doing this to you for so long...to fuck your tight jock bubble-butt hard and deep while your mouth is plugged with my cummy briefs...Oh take my hard rod you fucking queer underwear freak...we're both cocksucking muscle-slut fags, brother.", growled the turned-on boy-stud as he brutally shoved his hard cock deep into his brother.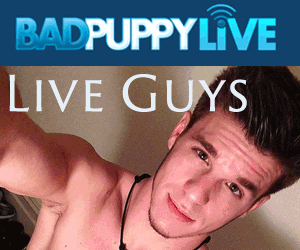 As Rick reached out and twisted his brother's erect male tits and lifted his ass even further off the bed with the force of his fucking, Kyle's long dick was aimed directly at his own handsome face as it began sending out streams of white man-seed. This sight caused Rick to empty his youthful load directly up into his brother's tight ass. He fell exhausted on top of his big brother's muscled body. He quickly began lapping-up the cum like a puppy from his hunky blond brother's face. He then pulled the underwear gag from his mouth and french-kissed him deeply. They both soon fell asleep with the torn ripped underwear shreds scattered between their sweaty bodies.
The Badpuppy.com model in these pictures is Euan Donavahn