Jason by Claye Canterwall
I don't know how it happened, really. We've all had our fantasies. God knows I've had mine. You see, I've been in the closet for 36 years. It's amazing how that goes. One day you realize you're gay, the next day you realize you're way too far into a heterosexual life to be gay. There's the closet door. You step in. It's a perfect fit. And there you are for the next 36 years.

Being in the closet gives a guy a lot of time for fantasy. I've had sex with everyone from Marlon Brando (in his early years, of course) to Prince William. I bet not many of you can say that. My favorite sex partner, though, was a young man named Jason. He was about 5'9", dirty blonde hair, muscular, but not overly so. He had an ass to die for. Every time he walked by, I sighed deeply. Every time he walked by naked, I moaned softly. His face was boyish. His smile was wonderful. It lit up the room. In short, he was my dream man.

Jason was a college student who needed a place to stay and I was living alone and had a room to rent. I never dreamed he was gay. I had put an ad in the college paper. I really wasn't setting a trap, although later it would seem so to anyone who hadn't known my innocent motives. He came to my door one evening about 7:30. He said he was desperate and would I take him in? He had come that day to move into his dorm room, and someone else was already there. The college had made a mistake. They said there was nothing they could do. So, poor, Jason had spent the day trying to find a room. By the time he hit my place he was totally exhausted.

I had no intention of renting my room to someone, even if he was desperate and exhausted, without the proper reference checks, etc. I had heard far too many tales of mature men being killed by roomers. Still, he looked harmless, and so tired that I had to let him in at least to sit down and rest.

He seemed grateful and came in and literally fell down on the sofa. I got a good look at him then. He was sweaty and unkempt, but truly a golden child. His skin was that color that is between beige and brown and really did glow with a golden sheen. His eyes were amber. I had never seen amber eyes and I could hardly stop peering into them. They seemed to demand that I look there, and so I did. At that point, I did not even look at the rest of his body. His eyes transfixed me. It was a good thing, too, because if I had looked at the rest of his body, I might have done things that, well, I just might have done things, that's all.

"My name's Jason," he said. "Can you rent me the room? Will you rent me the room? Money's no problem. I have plenty of money. I'm a good person. I'm going to be a lawyer like my dad. You can call him if you like. You have to rent me the room because there's no way I can go out there again and look anywhere else. Please, er …"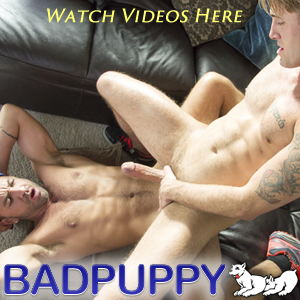 "John," I said. I don't usually make spur of the minute decisions, but I was already in love with the kid. If he killed me, he killed me. At least he might let me look at him for a while before he did me in.

"Yes", I said.

He cried. I'm not kidding. He put his head down on the arm of the sofa and cried, softly. But there was no mistaking what he was doing. He looked so young and vulnerable there that I had to stop myself from going to him and holding his head in my arms. What a day he must have had. How frightened he must have been as it got dark and he had no place to stay. It was almost as if he had heard my thoughts.

"Of course, I could have gone to a hotel. I have the money. But I had to give it one last try. You were my last try, John. Thank you. Sorry about the tears. I don't know what came over me."

"Exhaustion," I said. "Exhaustion came over you. Don't be embarrassed, Jason. You were just too tired and relieved not to cry. I won't hold it against you. I've been known to cry once in awhile myself."

He just smiled at me, and laid his head down on the arm of the sofa.

"Have you eaten, Jason?"

"No," he said. "But I can go out. There's a McDonalds down at the …."

"You just rest there, and I'll fix you something. If you want to go freshen up and get rid of those things, your room is right down that hallway."

The smile he gave me then would have made the angels sing. I was instantly in love… not in lust, in love. That is, I was in love until he got up to take his things to his room. It was then I saw that rear end. There was never one quite like it. Michelangelo would have drooled all over the granite. I could tell even through the jeans that it was magnificent. It was just small enough to be gorgeous and just poppy enough to be interesting. It was like buying a strawberry shortcake and finding out that it came with whipped cream. I was in love with that cute college kid, but I was in deep lust with his ass!

I fixed him a sandwich, a large glass of milk and some chips. I had some cookies, too. I suppose I gave away how I thought of him by serving him a grade school lunch, but he was just so darn cute.

"How old are you, Jason?" I asked.

"Eighteen," he said. "I know I don't look it, but I am. How old are you, John?"

It was a fair question. I had brought it on myself.

"Fifty-five," I said.

"You don't look it," he answered.

"Then we have something in common, don't we?" I didn't mean to sound sarcastic, but I guess it came out that way.

"Sorry," he said.

"About what?"

"I didn't mean to insult you or anything."

"Jason, if you're going to live here for awhile, you need to know that it's real hard to insult me. I'm the one who's going to have to be careful. I tend to be sarcastic. I'll try to watch it, but I know that sometimes something will slip out. Don't let it hurt your feelings."

He just smiled and continued to eat his sandwich. After he finished eating, he said he was going to have to turn in. He said he had everything he needed and that, if it was all right, he'd just take a shower and fall into bed. I told him it was his room; he could do anything he wanted in it. He smiled, thanked me again for letting him stay, and turned to go.

I followed that ass every inch of the way until it faded from sight at the end of the hallway. Such a sigh came out of me that I turned to see who had made the noise. I had to laugh when I realized that it was me. I sat down to watch some TV before I turned in, but all I saw on that screen was a beautiful young man and an even more beautiful ass.

I must have fallen asleep, because I awoke, startled, with a tap on my shoulder. I must have jumped.

"On, sorry, John, I didn't mean to startle you." He was laughing.

"It's O.K. I always jump when I wake up. It's so much more fun than yawning and stretching."

He was standing there with nothing but a towel wrapped around his waist. It was my first glimpse of his chest. (Look out, Michelangelo; this is almost as good as the other side.) Just enough muscle to hold those two nipples out where the breeze could hit them and make them hard. Just enough hair beneath his navel to point the way to heaven. It might as well have been a neon sign flashing: "Eat at Joes." I know I gave myself away. I couldn't help it. I couldn't stop looking. I was mesmerized.

Everything was silent for what seemed to be an hour. Neither of us moved. I was not looking at Jason in the eyes, but I knew I would like to get to that later. Then I heard him speak in barely a whisper,
"I'm gay, John."

"What?"

"I said, I'm gay, and I know you've been looking at me all evening, and I know how you've been looking at me. I know you're gay too, and I know you like what you see. I owe you, John, and you can have what you want."

"But, I'm so…."

"Old? That doesn't make any difference to me. It never has. You're kind. You're sweet, and you're really kind of cute. What's your dick look like? Not shriveled, I hope."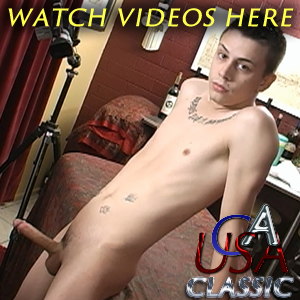 That broke the ice and we both laughed. I reached out and pulled him to me. My mouth was on his dick through the towel. He let the towel drop and I was greeted by seven inches of heaven. Soft, hard, smooth, sweet, moving slowly back and forth against my lips. I could tell the love making tonight would be tender and sensual. Jason didn't need to actually love me. I had enough love for both of us.

He didn't let me enjoy myself for very long, although I could have enjoyed myself in his lovely loins for hours. He literally had to pry me loose from his penis, in a gentle way of course. But I wasn't going to let that baby go easily. Who knew when I would get to visit in those parts again? He was in charge. I knew that. I liked that. I needed that. I thought it was strange that, here I was 55 years old, being led around by a naked teen-ager, but somehow that didn't matter. There was no age between us.

In his bedroom, he reached down and took a small drop of pre-cum from his penis and gently touched my lips. Then he leaned in and kissed me. The combination of the sensation of the kiss and the taste of the pre-cum nearly sent me over the edge. And it was so romantic…my knees nearly buckled. He slowly undressed me, taking time as he did so to make love to every part of my body that was uncovered so lovingly by those beautiful hands.

At last it was time for him to remove the last bit of my clothing. He looked up at me with those amber eyes and said somehow gently and forcefully at the same time, "Close your eyes, John."

I did. What happened then was the sweetest, most wonderful feeling I have ever had. The air on my genitals was cool, shocking me out of my totally aroused state for just a moment, until the softest of touches began to cradle my balls, just barely fondling them as they encased them in their wonderful warmth. At the same time, a wonderful warm feeling came over my dick. It was Jason barely blowing on the tip, teasing me tenderly, and making me moan softly. I was ready. Then, as if in slow motion, he began to swallow my penis, beginning at the slit and working his way down to the base. What seemed like hours must have been just minutes, but each wonderful advancement towards his goal took me to a higher level of agony and ecstasy at the same time. My body shivered as he reached the base and I heard a little giggle slip out of the mouth of my wonderful lover.

Slowly he moved his lips up my body, stopping at my nipples to suck briefly and moving on to my lips. Again, in almost slow motion, I felt his tongue push between my lips invading my mouth, hot and searching. I might not live through this, but I was going to die a happy man.

Without saying a word, Jason pulled himself away from me. I felt as if a part of myself had left me. He looked at me with those eyes, drinking me in, and touched me gently on the shoulder. Then he turned and lay down on the bed, giving me access to that wonderful part of him that I so wanted to touch. I was not to be disappointed. It was golden and perfect, just round enough to want to be touched in every way possible. I knelt beside him and slowly began to taste every part of those beautiful orbs. So sweet. How could I get enough of them? How could I hold this moment in my memory forever?

After allowing my fill of his wonderful cheeks, Jason reached around and spread himself open, showing me the most beautiful rosebud I could ever imagine. I knew that it was his way of offering himself to me, and I would not take his offer lightly. I would treasure it as it should be treasured. I bent down slowly, savoring the sweet smell of his body mixed with the aroma of the soap he had used in his shower. The taste was beyond wonderful as my tongue probed and licked causing Jason to moan and squirm as I did so. I knew I had to act quickly or run the risk of coming before sampling all of what Jason was offering me. I was near the point of no return.

I placed a pillow under Jason, allowing that wonderful ass to rise slightly into the air. I had to stop and touch it, moving my hand gently around it before completing my journey. Jason had put wonderful scented oil on the table beside the bed. I put on a condom, and then poured a good supply of the oil on my hands. Then I massaged it into Jason's ass and onto my penis. Then I knelt between his legs, kissed the small of his back and pressed the tip of my penis against his beautiful man hole. He groaned. He knew I would be gentle. I knew this would be love making, and not just sex.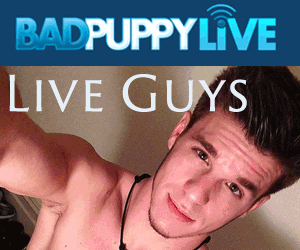 I pushed in slowly, each moment bringing more ecstasy than the last, until I was completely inside this golden boy. Moving was not even a thought as I savored the feeling of love and lust that somehow swirled around my brain and body, causing me to moan and nearly cry out.

Then the lust took over for both of us. We started moving simultaneously as thought there had been some sort of magical time appointed. At first it was very slow, agonizingly slow. But our moves began to quicken as a feeling spread from my penis and balls slowly over my entire body until I was completely lost in lust for Jason as he was lost in his lust for me. A kind of sound started to come from both of us as our thrusts became faster and faster until we were nearly screaming as our passion neared its completion. Finally, I could stand it no longer. My body stiffened. My penis drove deeper, ever deeper into Jason's bowels, and I screamed as I came in love and lust. As I came, I felt the same from Jason's body, as he seemed to grip and hold my penis in its final ecstasy of love. I collapsed on him, crying uncontrollably. The experience had been unbelievable. Jason turned over, smiled at me, looked at me with those loving amber eyes, kissed me tenderly on the lips, and cradled my head until I fell asleep.

The alarm went of at six. Barry Manilow. I had to remember to change that station. Remembering our wonderful night of love making, instinctively I reached out for the warmth I had known the night before. He was gone. Of course he was gone. It had all been a dream, a fantasy, a concoction.

But was it? Could reality have been any more wonderful? Could those lips have been sweeter, those eyes more compelling that ass… well, that ass? I had had many fantasies before, but none like this one, none like Jason, none that made me ache inside to make it a reality. If I thought as hard as I could, maybe…. Get a grip. Pinocchio did not live here. Besides, it was his nose that was long, and, with your luck, he was probably straight. How could I miss something, someone, who had never existed? And yet I did. Reason, I guess, is not quite awake at six in the morning. I turned off Barry and headed for the shower. Cold water may be just what I needed. But there I was, looking for him in the mirror as I shaved, expecting him to walk into the kitchen as I was fixing breakfast.

All right! It was my life and I was not going to lose this beautiful golden boy! After all, the difference between fantasy and reality was paper thin and for a while at least, Jason was going to be very much a part of my life. I would not lose him without at fight. I laughed out loud at myself, and heard myself say, "You old fool, you've really lost it this time." But I didn't care. I was in control. Jason would be home tonight after class for dinner, and this time I was pretty sure he would have a cute friend with him.

It was time to leave for work. I closed the door to my apartment, locked it, and, smiling, whistled softly as I walked down the hall, knowing that tonight I would see once again the most beautiful golden ass in the whole wide world.

The Badpuppy.com model in these pictures is Ryley