His name was Chet by Jarred
His name was Chet. He was my best friend in HS and I had wanted him for so long, wanted to feel him, touch all of his body. He was really the first man I ever looked at in a sexual way. Dirty blonde hair that looked styled no matter how messed up it was, blue eyes, dimples and a grin that knew something you didn't know. Smooth chest and the thickest hottest legs you have ever seen. I found that I was always happy just being near him. But, I could feel the need for something more growing in me every day.
One night a group of us were out partying in the typical high school way - a lot of booze and a lot of girls. Chet was really horny that night and kept grabbing his girlfriend in ways she didn't want. I felt a little sorry for her, but that emotion kept crashing up against blinding jealousy. I wanted him to do that to me! I could tell he needed a fuck BAD! Hell, everybody could. Well, he finally pissed her off before she put out and she left him. We spent the next couple of hours driving dark back roads in his Jeep, knocking down beer after beer and he kept telling me how horny he was, even pulled up his shirt to show me that raging cock just under his tan shorts. Shit, I was on fire. I couldn't take anymore, and before he could drop the shirt back down, my hand was on his cock.
He slammed on the brakes, and I was sure he was about to punch me right out of the car. He did seem stunned and pissed, but I told him all I wanted was to help him out. Then, almost barely noticeably, his arms dropped away from his lap and left the wet spot in his shorts for me to see in the dashboard lights.
I reached again, only this time there was no reaction. Only his chest lifting with a deeper breath. At that point, I was on automatic. I reached over and lifted the shirt off of his smooth body and touched his solid nipple, he raised his arms above his head, grabbed the roll bar, and said, "suck my tits, man - DO IT!" You could hear reservation in voice. He wanted to get sucked so bad, but just couldn't let go and enjoy it, but I didn't care. Fuck I was so hard! I twisted in my seat and my mouth found its way to his hot smooth pecs. The river leaking out of my cock was drenching my jeans.
He tasted so fucking good - I knew he would. I was so close now, I could feel his breath sharpen each time my teeth crossed that hard nipple. My hands began to probe his body, learning every curve, every tiny piece of solid muscle. Oh, god and those abs! So hard and so flat! My mouth began trailing down so my tongue could drive deep into his navel.
I licked him until his skin was shining in the night air. I couldn't wait any longer. I turned my eyes upward to see if we was going to keep me from getting at that prize I'd wanted so long. But his head was thrown back against the rest and his mouth was open. I could see the definition of his arms, stretched above his head to the roll bar and his wet nipples pointing out from his pecs.
He wasn't going to say no.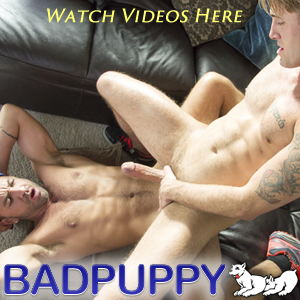 Then it was time. I reached for the button to his shorts. 3 years of waiting, and here I was. I pulled on the button and the top of the zipper slid down a bit from the pressure underneath. I finished the job and saw his dick, lifting and falling slightly under the clinging wet boxers with each new throbbing wave.
I peeled the wet material back, and there it was, long thick and cut. I'd seen it so many times in the locker room after practice, beautiful then when it swung casually from his bush as he walked, but irresistible now - now that it was so hard and all mine!
My first reaction was to touch it. Just take a moment to learn the lines of Chet's thick tool, but I thought at any moment, he would snap out of his beer and sex induced stupor and tell me to get the fuck away from him. I had to move quick. So, in an instant, my mouth was around the cock I had wanted so badly. Oh, the taste of him! So sweet but bitter. If I had my choice, I would have spent the rest of my life on that dick!
I dropped down on Chet's cock as far as I could. As I sucked him, I pushed his shorts down to his ankles and let him work them off completely. I lifted away from his dick long enough to take in the full view. Damn he was incredible! His thick legs were spread so wide, the left one was hanging out of the Jeep. The trail leading to his dick was perfect. His cock was in full swell now, and that throb was even bigger. God I loved watching it bob up and down against his smooth flat abs!
I worked his balls a minute, just so I could watch his face while he was pleased. It was beautiful. His reactions, the way his mouth opened to let out those little moans. Everything. Then, back down to suck him more. I wasn't on him long before the thrusting of his hips became faster. He was going to fuck my mouth and cum any second! Then suddenly, he pulled out.
I was sure this was it. I had gotten all I was going to get. But instead of throwing me out, He reached for my waist, and turned me so my legs were across the drivers seat while he climbed out. He tore into the fly of my jeans and yanked them off me in one quick move. Then, came my boxers and there I was, spread across his car, Chet standing over me and my cock straight in the air.
His attitude was different now. I think he was amazed that any man could get him to cum and it became a competition.... I was about to lose. He pushed my T-shirt up past my smooth pecs and nipples and pinched me. He pinched my nipples HARD. I started squirming against his grip, but he knew I wasn't going anywhere. He pinched me for a long time - almost until I shot a load. Then let me go and slowly began moving his hands down.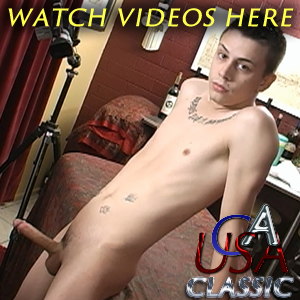 He moved over my abs, gripping my sides and squeezing. I found out that night why Chet's girlfriend didn't like his grabbing. Chet plays rough. But I didn't care. Every touch, every movement of his hand made me that much harder. And then it happened. In an instant, his big hand was around me, rolling my helpless dick around in his jock's grip. I almost shot right then and there, but fought it off with all my strength. I wasn't about to let 3 years of waiting climax in two seconds of jerking.
He saw that I was resisting, and made me pay. That night, Chet unleashed the most intense, almost violent, sexual experience of my life. His strokes never started slowly. He started to pound my cock into submission, forcing me to buck my ass off the seat to match his rhythm. I never realized how strong he was until that night. Between his pounding and my bucking, my body worked toward the edge of the seat and out of the car.
I couldn't take anymore, I had to do something. The world right at that moment was upside down as my head hung out of Chet's Jeep. All I could think of was this man I had wanted for so long was giving my dick the beating of its life and I LOVED IT! Images of him filled my head, seeing him at practice, in the shower. Watching his tool swing while he walked, that time I got brave and brushed against him as we undressed, all the times I had jerked off thinking about him. And now, here we were, and HE was doing all the work.
No way. I couldn't just lie there and take it. I lifted up in the seat, came eye to eye with him and grabbed Chet's fuck meat HARD! Then the competition was really on. We were determined to see who would give in first and shoot his load. I pumped his cock so hard my arm was burning, but I wasn't going to quit. But every time I gave him more, he gave it right back and rougher.
I tried so hard, but it was no good. At that point all I wanted in the world was to cum in Chet's hand. He leaned against the seat for support, freed up his right hand, gave me one more of those lethal nipple pinches, and it was all over. I screamed his name and blew. I didn't care who heard me. All I knew was that wave after wave of thick cum was shooting onto the hand I had wrapped around his cock. The cum made his dick even slicker and he was mine seconds later. He pushed me down and grabbed his tool to fire his hot load all over me. I just laid there and took it, on my chest, my face, and my cock. His smell was something I'll never forget.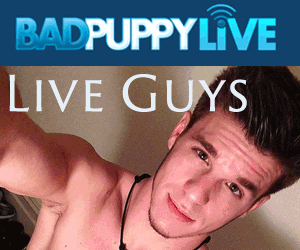 We never did it again. He said that he never wanted it to happen, that he was more trashed than me - so it was my fault. But I know better. He wanted it. Even if he won't admit it.
And it was worth it!
The Badpuppy.com models in these pictures are Jeremy & Chase