Gym Fantasy James by PeterAinLA
It had been a long week and I was looking forward to working out the tension at the local community college gym. Being an evening student at the college gave me access to all the school facilities, and actually, I preferred going there rather than some fancy membership gym because of all the young college-age dudes who workout there. You see, I am sexually attracted to other guys, even though I keep it pretty well hidden. At least most of the time anyway.
I'm very straight-acting and I'm told I have a fairly decent body at 5' 10" tall and around 140 pounds. I know that makes me pretty slim, but I've weighed about that since I was 17, so I don't worry about it. From my favorite activities of swimming and cycling, I have decent chest and arms, strong legs, and a tight bubble-butt. And my thick 7-inch cock above my shaved balls always shows a nice bulge in my tight 501's or stretched nylon speedo swim suit. It usually gets a second glance from both women and some men.
As I arrived at the gym following work on this Friday, I felt more horny than usual due, I think, to the tough week at work. I was in the mood for a hot wild weekend. Little did I know that I would get exactly that and more. On my way into the building, I noticed a cute butch dude entering that I had seen at the gym several times before. As usual, he was wearing ripped tight jeans and a short cropped Champion half T-shirt that showed off his smooth, flat defined stomach.
I had the hots for this kid from the first time that I spotted him. He has a nicely proportioned hairless chest and tight abs over a nicely rounded jock-boy bulge that shows through those torn slut jeans that he seems to like. He has dark hair and a cute boyish face that got my nuts churning when he looked my way. I just had to find out more about him and what he might be into. Was he a fag dude like me?
Turns out this stud-puppy's name was James and he was 20 years old. I thought I caught him scoping me out a few times, but I wasn't sure. Fuck, I hoped he was queer. I had just wanted to rip those tight jeans off his cute ass so many times that it hurt. Later on this night, I would get the answer in an unexpected way.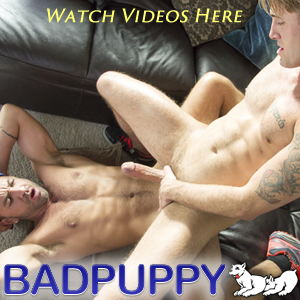 There was another teen at the gym on this occasion who was fantasy material for me in the past. His name was Bobby, and he turned me on because he had such a macho attitude about himself. I would always overhear him talking about his sexual conquests with chicks, and he would brag about how good his buff body looked compared to "some of the faggot whimps" around him at the gym.
I noticed at one point that Bobby asked James to spot for him while he lifted some free weights. This was unusual in itself, but I swear I thought I saw butch-boy Bobby's skimpy gym shorts with a larger than normal bulge in the front. I think James noticed this also as he began throwing half-joking insults at the sweating stud struggling to finish his last set of workout reps. Several times, I watched with growing arousal as James even slapped Bobby's panting face. This action just seemed to make Bobby's hardening rod push-out against his confining jockstrap all the more. And I saw James adjust his cotton-covered mound a few times, with it positioned just inches above the kid's head.
As these two hot guys wrapped-up their exercise routine, I saw them both head to the locker room. I didn't want to go to the lockers myself yet because my jock was tented-out by my stiff cock that had pumped-up watching them work. After a few minutes, I headed back to my locker. I knew from when I had arrived that James' locker was around the corner from mine and pretty-much hidden from the rest of the lockers. I stripped off my sweaty T-shirt and shorts, then slid my tight 2Xist jock down my lightly furred legs and hung it on the locker door. My cock was only half hard now, so I grabbed my towel intending to grab a shower. As I was about to go, I heard a moan that sounded like it was coming from around the corner where James was. My curiosity got to me, and I peeked around the lockers. What I saw made my dick instantly go full hard again.
>James had the macho 19-year-old teen Bobby shoved up against the lockers with his hand pushing the startled kid's heaving chest. James had a look of fire and passion in his eyes. Then I heard him speak in a low rich voice to Bobby.
"Alright you idiot...I've had just about enough shit from you...get down on your fucking knees and suck my long, hard cock."
The boy moaned as he fell to the floor in front of a totally nude James, and the young light-brown haired teen boy wrapped his pretty red lips around my fucking dream buddy's engorged, stud-dude cock. The kid had a white cotton dress shirt half off his nicely muscled young shoulders and wide open revealing his smooth rounded teen pecs and firm rippled abs. He must have just been starting to get dressed when he was attacked. James was moaning in pleasure with his mouth open and head thrown back. The young pup was pinching James' erect brown nipples with his hands as James held the horny slut's head by the hair and forced his dick deeper. The muscled kid's 7-inch fag-cock was sticking straight out from his smooth groin and his hairless balls swung back and forth as James fucked his cute boyish face.
"Oh yea, suck my stiff rod...I knew you wanted it...you fucking bitch...giving us all a bunch of phony attitude...you wanted to be my pussy-boy...now tell me how much you need it.", said James to the gasping teen stud at his feet.
"Oh God, man I admit it...fuck my queer cocksucker's face...I've wanted to do this to you for so long...please give me your hot cum down my throat.", the kid pleaded.
James chuckled and shoved the horny kid onto his back on the bench. He grabbed his sweaty jock from his locker and wrapped it around the whimpering fag's neck. He used the jock to lift Bobby's pretty head up to watch as he grabbed his legs and raised them onto his shoulders, and aimed his hard stud cock at the kid's tight bubble butt.
Just then, I coughed and James knew I was watching. He looked over toward me and said,"Get your butch ass over here, stud dude. I want to see that hard stiff boner between your legs, baby. Stand over this pussy-boy's buff chest and fuck his hot mouth with that dripping cock while I plug his fag jock ass".
"Oh man, I knew you grooved on guys...you're so fucking hot dude...use his tight teenaged muscle body...he's tried to act tough before...pretended not to be cruising all the guys in the gym...but you knew he needed it bad.", I told James.
"And I saw you cruising me all the time too...I wanted to get to you...turn you on...get you hot enough to fuck with me...shit, feed that puppy your hard cock man...make his gay cocksucking throat gag...then shoot your white cum onto his face and chest, dude.", groaned James.
I tugged on the wet white Bike jock around Bobby's neck, nearly choking the little slut as I fucked his handsome face. After I slammed my dick over and over into his hot pussy mouth, I was soon on the edge. I could tell James was too. As he pulled his bulging dick out of the queer kid's tight muscle butt, James started shooting bolts of ball-juice all the way up to the boy's hard pecs and totally drenched his abs. With that, my load rumbled it's way through my hard dick and spurted over the boy's forehead, cheek, and even into his tussled hair. The muscle kid moaned and his tool deposited his pussy boy cum onto his own chest and erect brown nipples.
A panting James reached down and spread the 3 loads of gism all over Bobby's young tight body and even scooped-up a handful and made the bitch lick it into his sweet gaping teen mouth. James asked if the boy had had enough and the dude begged to be used some more - by both of us.
It was decided that we would all go back to my place, as it was closest and I had a large apartment with a huge bathroom. James and I talked a bit while Bobby was made to get dressed without getting showered. We had some nasty plans for him. It was obvious that Bobby got off on being forced to bend to another guy's urges.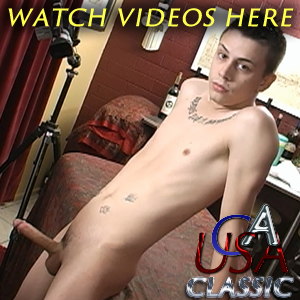 When we arrived at my place, James twisted Bobby's arms behind his back and shoved him into the bathroom. It has a large, over-sized resort-style shower area that could hold 4 or 5 people at once. James tore open the muscle-pup's white cotton shirt, sending buttons flying all over. He pulled it down around his muscled arms, then ripped the front of boy's tight-fitting undershirt exposing his hairless rippled chest, leaving the tattered remains hanging from the kid's neck. I brought in some soft cotton rope and we tied the faggot's arms to the shower head. His muscled torso was stretched taught by this position, and I ran my hand down over his abs and unbuttoned his skin-tight 501's, revealing his white CK cotton mesh briefs. His bulging cock was struggling against the confining fabric.
James and I slowly removed each other's clothing, as a moaning Bobby looked-on and struggled to get the best view of us. With both of us now totally stripped, James took his low-rise briefs and jammed them into Bobby's mouth. He then held them in place with my damp 2Xist jock wrapped around the dude's head.
"Now you fucking boy-slut...you said you wanted to be used more...well now you will get to submit totally to our needs...we'll just have to make you our property...force you to watch two hot dudes taking care of each other."
I came back into the bathroom with several cans of beer for us. James stood in front of Bobby, popped open one of the brews, and began spraying the contents onto the whimpering teen's crotch and legs, making the thin blue levi material turn dark with trails of liquid down his lanky thighs. Next, I stepped up and poured a stream of beer down Bobby's heaving chest and washboard abs. It dripped down into his white briefs making them almost transparent. James slapped the horny teenager's cute face roughly several times and brutally twisted the dude's hard erect nipples. Bobby let out a gagged groan and his throbbing hard dick let loose a flow of milky boy-cum that dribbled out thru the mesh of his underwear and down his legs.
I was getting turned-on watching the young slut's humiliation, and I jacked my engorged rod with my fist. Suddenly, James grabbed me from behind and forced me down onto the cold tile floor. He pulled my head back by the hair and roughly slapped my round ass cheeks several times. Slipping a condom over his stiff ram-rod, he growled and shoved his pole up into my tight butt.
"This fag's not the only one who needs it rough...I've wanted a piece of your butch ass for a long time...now tell me how much you want it, you queer stud."
"Oh shit, James...fuck me hard...I want your hard fucking-boy cock all the way in me...oohhh baby, dude, rape my faggot hole."
James kept his rod inside my ass as he forced me to crawl over to Bobby and pushed my face into the horny teen's soaking wet crotch. He reached out and exposed Bobby's pulsing hard cock and yanked my head up to take it into my gasping mouth and down my throat. The smell of the mixture of beer and fag-spunk was intoxicating as I sucked hard on the dripping boy-flesh. Bobby began to thrust his hips into my cocksucking face making me choke and gasp for air.
"That's it you horny teen punk...fuck that butch fag's sweet face while I ream his hard bubble-butt...oh damn, you two hot queers are going to make me cum."
Saying that, James pulled his rod from my pounded hole and, yanking off the rubber, shot a huge load of his hot sperm onto my buns and back. Shortly after, Bobby let loose with another spitting stream of gism all over my face and hair.
James was in a daze, so he wasn't ready when I turned around and grabbed him by the hair and held his boyish face under my stiff pole and jacked my stream of cum into his open gasping mouth. It dripped down his chin and on his hairless chest.
I lifted James to his feet and planted my lips onto his and sucked on his tongue. We both moaned loudly as we ground our sweaty bodies together. I could taste my own cum from inside his hot faggot mouth. He slapped my ass hard a bunch of times as his load was dribbling down my back.
I untied the exhausted Bobby from the shower head and he fell in a heap onto the floor. After a few minutes for all of us to recover, James pulled the soggy 501's down the muscle-fag's smooth legs and removed the spit-soaked underwear gag from the butch kid's mouth. Bobby's torn shirts still hung from his battered torso as James slipped another rubber over his hard dick and grabbed the slut's trim waist as he shoved it deep into the teen's round bubble-butt.
"Oh man...give it to me hard again...plow my young faggot hole...I want it deep inside me...make me your pussy-boy bitch.", gasped the horny muscle kid.
I just had to have a piece of my gym-fantasy dude James' boyish ass, so I slipped a condom over my own pulsing cock and moved behind the humping babe's muscled back. James gasped as I sunk my rod into his tight fuck-hole.
"Shit stud...plow my butch buns...treat my faggot ass rough...fuck me like I'm fucking this slut-boy's pussy...ooohhh do it lover.", moaned James.
I pounded my dick in and out of James with brutal thrusts as his own pulsing rod was reaming the whimpering Bobby's butt. I stuck several of my fingers into James' panting mouth and yanked his head back roughly as I used my other hand to spank his round white bubble-buns hard as I rode him. James gurgled as spit flowed from his sweet lips around my fingers and dribbled down his chin.
I was way over the edge in passion as I yanked my fuck-pole from James' tight ass and moved in front of the still-fucking dude and aimed my dick at his boyish face. Long bolts of cum erupted from my cock and covered his cheeks and forehead. My load was dripping down his chin as James moaned and deposited his spunk into his condom-covered tool still buried deep inside Bobby's butt. I then saw the horny bottom-boy's cock pulse wildly as he shot his white cum onto the tiled bathroom floor without even being touched.
After that night at the gym, any time James or I were horny, the hot muscle teen Bobby was right there begging to be of service. James really knew how to put a pushy closet fag bottom boy in his place. And he can shove his hard stud-cock down my throat anytime.
The Badpuppy.com model in these pictures is Andrej