Forced Facials by GaryS
When I was in college, I was paired up with a guy named Steve as a roommate. He was one year older than me and not all that great looking - he wasn't the ugliest guy in the world, but he wasn't cute, either. He was also kind of a spaz & kinda annoyed me. That year I was busy having as much sex as I possibly could, usually with other freshman & sophomores in the dorm (all of them quite cute, too!). Occasionally Steve would hint around that he was interested in playing, but I had no interest in him, so I brushed these suggestions off.
One night I came in really late and Steve was sleeping (or so I thought) so I simply stripped down in the dark and hit the bed. I was really horny that night (had just finished a long make-out session with a guy down the hall, but I hadn't cum), so I started stroking off. I was doing it kind of openly because the room was dark and I thought Steve was asleep. But soon he's tossing & turning, and then he's moaning (obviously he'd been watching me and started playing with himself) so I thought "aw shit" and threw the blankets over myself. Steve speaks up in a real sexed-up voice "aw come on, let me see!" I said no. Steve hops out of bed totally naked and approaches my bed. He had a tiny little pecker (figures!) and he was rock hard. He starts whining that he never gets to have sex and all this shit, "let me please just watch you!" Finally I figured "what the fuck..." and threw the covers back so he could see me naked. He stood there a couple of feet from my bed and began to beat himself furiously & making lots of noise as I stroked off and finally shot off on my stomach. In truth, even though I didn't much like this guy I discovered that it DID turn me on to have him watch me like that.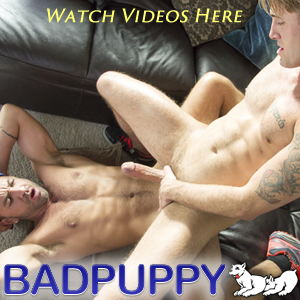 From then on, I'd let him watch every once in a while (maybe once a month or something). I really hated having him as a roommate, but it was a turn on to be watched while jerking off. One night several months later, I stumbled into the room fairly drunk, and (as usually) hornier than HELL. Steve was awake and he started talking to me as I undressed. For whatever reason I was really hard & horny, so I simply stripped totally naked (aside from his watching me j/o, I never walked around the room naked) and I approached his bed. My boner was maybe a foot and a half away from his face and I started playing with it. "You wanna watch me tonight?" I asked. Of course, he did, so I started pulling on my cock as he frantically pulled his from his underwear. He was really verbal, talking away about how he loved my cock and how he wished he could suck it and all of that. I was enjoying putting on a "show" for him, pulling on my nuts and all of that. After about five minutes or so, I was getting really close and I asked him "you wanna see me cum?" He said "Do it on me. Please????" That idea turned me on for some reason so I asked him something like "you want me to shoot off on you?" Steve simply gasped "Yes!" and promptly squirted his little load on his stomach.
Well, he said 'yes' so I jumped on his bed and in a flash I was straddling his face. He'd already cum, though, so he started saying "no no no ... no, I'm not in the mood anymore!" and pushing me away. I simply thrust my hips toward his face and said "YES!" and grabbed the front of his hair. He's squirming and his hands are trying to push me away and to cover my cock so he wouldn't get cum on his face. I waited until I was on the verge and simply grabbed both his hands and pulled them away, and I shot a HUGE load all over Steve's unwilling face. My cum landed all over him while he tried to turn away and avoid it. I then silently hopped off him and went to bed.
From then on, our infrequent jerk-off "sessions" took a strange turn. I'd let him watch me, but I'd hold back until he came (he never lasted too long, this guy was kinda a loser in every way), then I'd force him to take my sperm - often on his face, but sometimes when he fought really hard I'd just shoot off whereever I could on him. It was the strangest thing - I could tell he REALLY didn't want me to do this, because his efforts to stop me were real, but he never complained about it, ever. I think he secretly liked it, in fact, because he'd often ask to watch me jerk off (at least once or twice a week after that), even after he learned that it meant he was going to get spermed. Maybe it was kind of like play rape or something, but to me it was a huge turn-on to MAKE this unwilling spaz guy take my cum.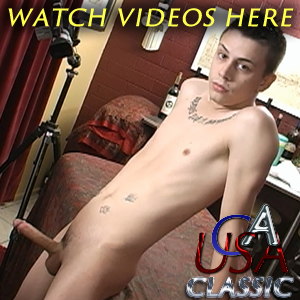 At the end of the second quarter, I'd decided to move out of that room to room with a friend living in the same dorm, but on my last night I gave him the little prize he'd been begging for for months. I simply pulled down my pants, took my hard prick in my hands, pushed Steve onto his knees and said "suck." He quite greedily went down on me just like he'd been dying to do, and of course in the end I pulled out and let him have it straight in the face.
The Badpuppy.com model in these pictures is Roger