Big Jon by Joe Woodruff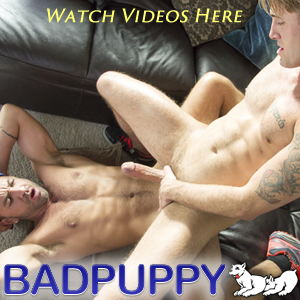 Jon and I work at a local restaurant together. I'm a waiter and Jon helps out the cook. Ever since I first laid eyes on him, I thought he was gorgeous. He's about 6'1", dark brown hair and eyes, and built. I'd never seen him with his shirt off but his chest filled it quite nicely and whenever he'd pick something heavy up his biceps would go nuts. Watching him pick something up gave me a boner quite a number of times.

Anyway, once, after a relatively slow night, Jon and I were left to finish cleaning up. I had just about finished when Jon asked me to help him out in the back. So I went back into the kitchen, which on a humid hot summer day, is just that, hot and humid. Jon was sweating from being back there all night. He said he was getting a little hot so he took his shirt off. I had to try very hard not to let my jaw drop to the floor. This kid was absolutely ripped. His chest was very well defined with large dark brown nipples adding to the glory. His abs were extremely cut. And his back was the perfect finishing touch. He asked me if I minded, and after stuttering for a minute, I said not at all. He asked me if I liked what I saw. Again, I stuttered before answering yes. "Do you want to feel these?" he said, flexing his bicep, which had to be at least 16" around. I walked over and put my hand on his bicep. "Go ahead," he said "I won't bite." I started to feel his chest which was rock hard. I put my other hand on his bicep. We started to kiss as he untucked my shirt from my shorts.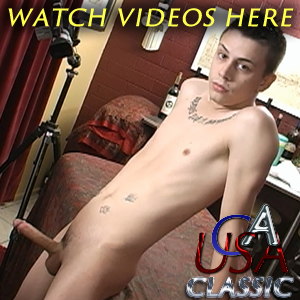 I'm not scrawny myself. I pack 14" biceps and a well defined upper body. He pulled off my shirt and began to do to me what I did to him. "Can I blow you?" he asked. Before I even had time to answer, he had my shorts undone and soft dick in his hands. He began to jack me off until my dick took its full 7 inches. He licked my head and my entire body quivered. He pushed me back onto the counter and began to suck hard. I moaned in ecstasy. As he sucked away, he began to grope my body. I was about to blow when I stopped him in a feverish rush. I wanted to suck on him. As I got off the counter I could hardly think straight, imagining how large this kid must be. I pulled off his pants and found his dick already hard and bulging out of his boxers.

As I pulled off his boxers, I couldn't believe my eyes. This piece of meat was 10 inches long and a good 2 or 3 inches wide. His head throbbed in anticipation as he forced my mouth over his meat. I choked and gagged at first, his veiny rod probing every inch of my mouth. I cupped his huge balls in my hands and fingered his asshole. I couldn't get my whole mouth around his cock so I jacked him off with my other hand. Then he violently pushed my face away and spun me around. He pushed me face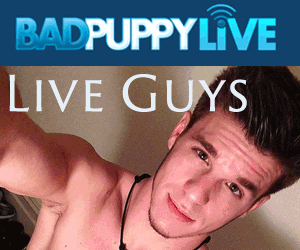 first onto the counter. As he pushed his 10 inch sausage into my tight ass, I screamed in pain and pleasure. He split me wide open. He went slow at first and I moaned and moaned. Then he sped up to an almost violent pace and I screamed. He pulled out and shot his load on my back. I turned around and began to lick his head dry, and I started again to suck his meat. "Let's 69," he said panting. He got down on the floor with his dick standing at attention in the air. I put my rod into his mouth and started fucking his face. He gagged while I took his meat once again into my eagerly awaiting mouth. I pulled out and shot my load on his chest. We both lay on the floor, feeling each others muscles for a few more minutes.

"See you next week?" I asked as I put on my clothes, getting ready to leave.

"You can count on it," he said.

The Badpuppy.com model in these pictures is Cody