Auto Erotica by Mark Gregg Richards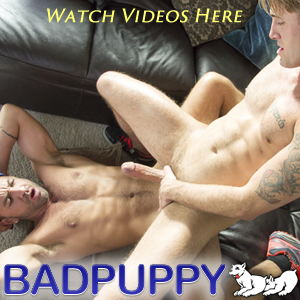 When I awoke that morning, I had no idea that I would soon be in for the ride of my life. It stared with a routine visit to my Chevy dealer for an oil change for my Corvette. Normally it only takes a few minutes. That day the place was bustling with activity and I was told there would be an hour or more wait. I settled into a chair in the waiting room and watched Oprah on television. Every few minutes I got up from my seat to look out the window overlooking the car bays to check the progress on my car. I was completely bored until he walked into the room.

He had blonde shaggy hair, blue eyes and was totally cute. The flaxen haired young man reminded me of a young adult version of "Dennis the Menace." His body and energy captured my full attention. He bopped around the room before finally taking a seat next to me. He could have easily passed for 18 but later told me he was 23 years old. The best part was I was sure he was gay. He flirted with all the good-looking mechanics and me as they passed by the window.

He told me his name was Aden and he was waiting for his ancient Chevy to be repaired. When I told him I had my Vette in for an oil change his cobalt eyes lit up like a Las Vegas slot machine.

"Cool I love Corvettes... They give me a hard-on."

Without missing a beat I said, "Yea like the one you are giving me now?"

Aden said nothing in reply but flashed a mischievous smile that told me there might be hook-up possibilities. We chatted for what seemed like minutes but was really over an hour. We both looked up when the head of the shop came in the room.

"I have some good news and some bad news," he said.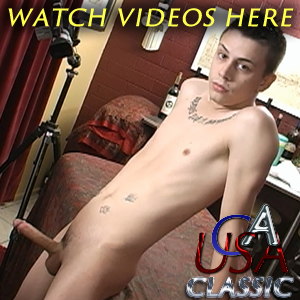 The good news was that my car was ready and the bad was that they would have to order parts for Adenís car and that would take two or three days.

I offered Aden a ride and took him out to lunch. I discovered he liked pizza, rock music, tighty-whitie briefs and gay sex. He also described one of his fantasies. He liked to be outdoors naked and to pleasure himself. When I told him I enjoyed photography and the male form he added more detail to his dream.

"I would love to be naked outdoors, jack off on the hood of your vet and have you take pictures of me doing it," Aden bleared out excitedly.

"That can be arranged, I have my camera in the car," I said nonchalantly as if I got such a proposal everyday.

I let Aden sit in the drivers seat for a few minutes so his imagination would be revved up for the drive to the yet to be determined erotic photo destination. I exchanged seats with him when I decided the time was right to leave the parking lot. Aden got into the passenger seat, unfastened the top button of his jeans and lowered his zipper before securing his seat belt.

"Hope you donít mind me getting comfortable... there is not enough room in these jeans for a good erection."

"No, get comfortable it might take a while to find a good place to take the pictures," I said.

A couple of images crossed my mind as I pulled the Vet into the city traffic. I was only a mile from my house and Aden and I could be cuddling in my bedroom in less than ten minutes. The lad could be naked with me sucking on his yet unseen but imagined beautiful cock. The idea of photographing this handsome guy spread eagle jacking off on the hood of my prized car in a deserted wheat field was equally exciting. I figured that maybe before the end of the day we could accomplish both fantasies.

Aden stroked the front of his jeans a couple of times with the expected results. The bulge in his underwear was growing. The sexual tension in the car was palpable but it was in anticipation of something we both found erotic and enjoyable. I was starting to wish I too had opened my fly to relieve the pressure of my growing penis.

In a sense Aden and I were the perfect couple. He was an exhibitionist and I was a voyeur. Aden was selective in that he exposed himself to only those that wanted to see him naked and to those people whom he felt comfortable and could trust. I was honored that he trusted me after only just meeting him. I not only enjoyed watching a good-looking man strip but I had a healthy appetite and wanted to be a participant in gay sex.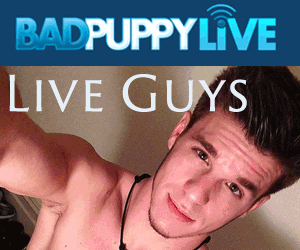 As the city faded into the rear view mirror and the traffic started to become sparse, we looked for a place to take pictures. We found a dirt road leading off the highway to a wheat field. It looked deserted enough but there were still lingering sights and sounds of civilization. We could see off in the distance a farmer harvesting wheat and we could hear the sounds of trucks on the interstate. Planes heading for the airport in the city flew by but were too high to see what was going to happen in the farmerís field below. We felt alone but there was always that change of discovery, which made things even more exciting.

I could see Adenís arousal. He breathed more deeply and the pupils of his eyes became wider as he pulled his jeans down below his knees. The outline of his hard-on was clearly visible under his white briefs. His right hand worked its way beneath the waistband to massage his stimulated cock. I parked the Vet, picked up my camera, and let Aden put on a show. He quickly doffed his t-shirt and jeans and started posing only in his form fitting briefs, which separated and emphasized his ass cheeks while the front of his underpants hugged his package like a jock strap.

Aden danced around the car to the tune of music playing in his head accompanied by his air guitar. He looked at me periodically for my approval. He was experiencing one of those rare times when one can be totally free of inhibitions.

Aden bent slightly forward, removed his briefs, and freed his manhood. His blue eyes sparkled and his golden hair reflected the rays of the sun. He reclined on the hood of my car. It became his altar. His entire body was electric with the energy given off by his erect cock. He convulsed slightly as he stroked himself harder and faster. Finally his semen was released in two bursts on his stomach. It was clear as spring water with the aroma of the ocean.

His energy was spent but it would soon be recharged and shared by both of us in my bed.